Welcome to "LEARN TO FLY"
THIS WEBSITE USES MINIMAL GRAPHICS TO ALLOW IT to LOAD QUICKLY. We also use freeservers.com to host this site. They place ads related to our site, but not necessarily recommended by us on the sides of our web page.
To see our new and improved website go to www.learntoflylv.com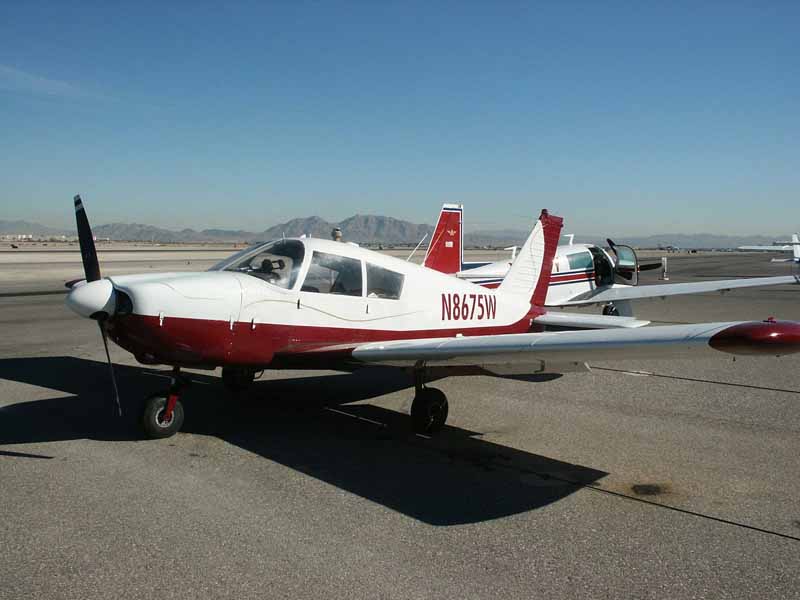 Scott Brooksby, D.D.S., C.F.I.I.
8960 W. Cheyenne #190
Las Vegas, NV 89129
702-274-6700 (Leave a message if you get voice mail, we could be flying)
e-mail:scott@lvimplant.com
To download a copy of the Manual for the Cherokee 235, the weight and balance spreadsheet or a navigation log, click here.
Our goal is to create an environment where you can learn to fly without breaking the bank. You will ask how that is possible. LEARN TO FLY is a program developed by Dr. L. Scott Brooksby, C.F.I.I. of Las Vegas, NV. Scott is an avid flyer and loves to teach and fly. He earned his instructor's rating in March of 2001. One of the problems that seems to plague many flight students is that often the flight instructors at many flight schools are teaching just to build time so that they can fly for the airlines. Often the student would build many hours, but never solo, or the instructor would leave and the student would have to play catch up with another instructor. This can be frustrating and expensive.
Dr. Brooksby decided that he could use his love of flying and teaching to help others learn to fly. He wanted to find a way for the average person to be able to learn to fly. He developed several programs to help people accomplish this goal. The first program is the REFER AND FLY program. Each time a person refers a friend to Dr. Brooksby's dental practice they earn one hour of free flight instruction. If a patient has more than $2,000 of dental work done, Dr. Brooksby pays for the airplane rental. Since the average person earns their pilots license in 40 to 60 hours, this can help Dr. Brooksby's dental practice as it helps the student pay for his flying.
Dr. Brooksby highly recommends the use of the KING computerized exam to help prepare for the examination.
AIRPLANE RENTAL PRICES:
CHEROKEE 235- (see picture of N8675W above) $65.00 per hour dry(approximately $95-110/hour wet) plus $80,000 hull value renters insurance.
FLIGHT INSTRUCTION: $40 per hour.
Because the expense of insurance for flight schools is so outrageously high, we require each student to provide their own renters insurance once they are ready to solo. The Cherokee 235 requires hull coverage of $80,000.
FINANCING:
Many people are concerned with the cost of flight instruction. We have financing available through PILOT FINANCE that allows you to learn to fly for about $150/month. It is a proven fact that the more often you fly the faster you learn and get your license. The average person that flies 2-3 times a week will normally earn their rating in about 40-45 hours. If they fly once a week they normally need about 55-60 hours for their private pilot rating. If they fly once a month it can go over 100 hours because you have to keep relearning everything. Obviously you save a lot of money, well more than the finance charges if you don't have to worry about the money. The average person can finance for about $250 per month for 48 months.
When you sign up with PILOT FINANCE simply indicate that your flight school is BRFLYERS.
Once your learn to fly, you will also find that Blake Brooksby, Dr. Brooksby's brother has fully restored Comanche 250's that look like they have just come off of the show room floor. Many of these are restored to customer requirements and are highly customized. You can check some of these Comanches out at comanche250.itgo.com.
If you would like an introductory flight for $120 click the Discovery Flight Link and also e-mail us.
If you have questions you may e-mail Dr. Brooksby at scott@lvimplant.com.